Squeeze the "Lead Time Squeeze" Before it Squeezes Your Business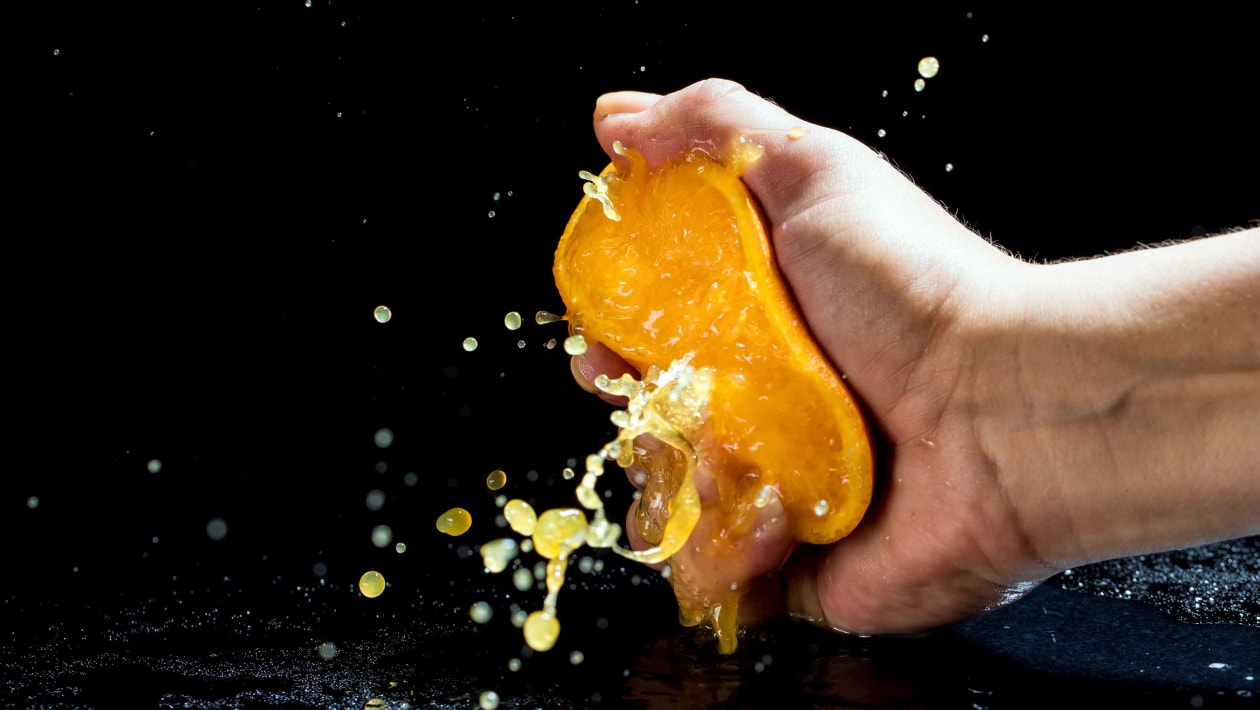 In the last year (or more), we've heard the financial types and newscasters throw around the term "supply chain" like never before. Much of the talk seems to be limited to symptoms and the execution parts of the supply chain (e.g. manufacturing and logistics). While the issues are certainly real, we know there's a lot more to a performing supply chain than just focusing on these things. Morgan Stanley among a slew of commenting economists and government organizations have jumped into the banter to predict that supply chain disruptions have peaked (this writing is as of Feb, 2022). Maybe the trending analysis they do has some merit, maybe not. I guess we'll see.
For many companies, the present situation is a little like skinny dipping in the ocean, okay when the tide is in, but process gaps and/or delays in adapting to the foreseeable reality is leaving them exposed when the tide goes out, like it is now.
We've been either working with and talking to several companies (large and mid-market) that are struggling with what I call the "Lead Time Squeeze". Customers need the same product availability that they're used to, but suppliers are struggling to deliver on-time-in-full (OTIF) because their supplier lead times have increased or become much more variable. Firstly – celebrate and appreciate that you have customer demand – many companies would love your problems! Secondly – If you'd like some ideas on how to address this mismatch and generally deal with on-time-in-full issues, please read on…
Study what is actually driving OTIF issues. I'm talking about data here. Most ERP systems provide the capability to capture reason codes for OTIF exceptions. Here's some examples:
Unforecasted demand

Order accepted inside the lead time

Schedule break to accommodate another order (when you break the schedule, it messes up other orders)

Manufacturing failure (e.g. unplanned maintenance event)

Lack of raw materials/components (i.e supplier OTIF or your failure to procure in a timely manner)

Labor shortage

Transportation delay

Other – please clean this up (eliminate), especially if it's a large percent – "Other" reduces your data to comments in a text field or someone's memory.
A simple OTIF exception Pareto (sample) can be your most effective tool for improving performance (Sample).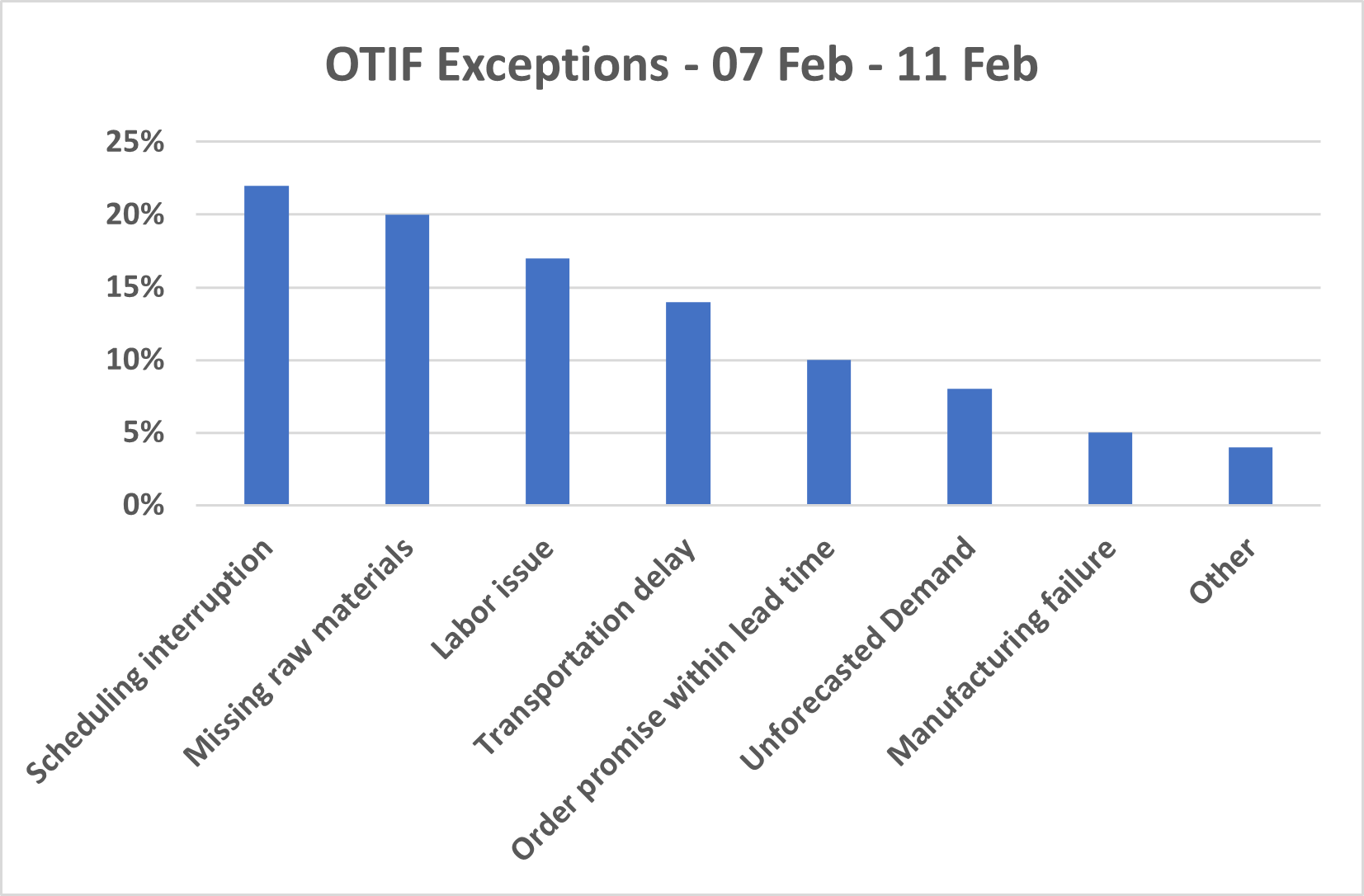 It amazes me how many companies don't capture and use this data due to a lack of proper system configuration (weak or no reason codes) or lack of management discipline to enter and manage the reason codes.
Managing the reason codes includes regular review (weekly with a monthly recap), visibility at the right level, root cause analysis, and an action log. Many companies kill themselves on making great products and building the brand, then "blow it" on this management stuff. The fact is, like many things in management, it's not so hard to understand, but doing it and getting others to do it is another thing altogether. Your management practices generally won't get customers, but sure could lose them.
Once you know the real drivers of OTIF exceptions, you can manage as described and implement solutions ranging from process improvement to changes to supply chain strategies, or maybe just implementing some management discipline.
Decide what is really short-term vs. long-term
This may not be so easy. Your supplier may improve in the next couple months, or maybe they're just telling you that. Maybe Morgan Stanley is right and it'll all just ease up. Maybe you'll lose customers and lose your job too. I saw that happen recently. Business is about making calculated guesses and the ones who are right succeed, and the ones who don't…. Take action and take your chances, such as life. Sorry – no silver bullet for you on this one.
The Easier Things
Examine Your MRP Data – Lead times are set for everything in your ERP system, if supplier lead times have increased, maybe no one has bothered to update the master data. Seems simple enough, but in many companies Tom, Dick, Harry, and Sally all manage the master data and Tom is no longer with the company. Dick, Harry, and Sally all do it differently with varying degrees of effectiveness. You get the idea. This is a large problem in companies who don't think master data is a real process to address. Maybe you're just ordering items too late because MRP is wrong based on your outdated lead time master data. Maybe you aren't using MRP properly or at all – but that's a different issue, will leave that hornet's nest alone for this post.

Make to Stock – If you're fortunate enough to have succeeded in the marketplace as a make-to-order business, you might have to consider joining the many businesses who haven't been so lucky. Yup – you're going to have to create a forecast and build to it, at least for some items. Maybe the 80/20 rule can help. Stock 20% of the items that generate 80% of the business, or at least the components and assemble to order. Of course this inventory isn't free.

Staffing – Normally we don't like recommending adding a bunch of people, but if they don't show up for whatever reason, what else can you do? Can more of a contractor model work for your business? Hiring isn't easy in today's climate, but it's easier than some of the other items discussed below.

Do nothing, pass the inefficiency (extended lead time) along the customer – A good gig if you can get it, but this won't make you stand out and could leave you out.
The Medium Hard Things – Supplier Management
I put this in the medium category, but in industries with heavy supplier qualification (e.g. life sciences, aerospace), we know that there's nothing easy about switching or adding suppliers, maybe put this on the hard list for you guys.
Supplier management – measure supplier OTIF, regular reviews with key suppliers, this isn't so hard if you're important enough to them

Alternate or more suppliers – Obvious perhaps, but your cheaper or specialty supplier on another continent could be costing you customers. It's certainly costing you lead time. Quantify sales losses/customer issues with the help of your sales team (Data – not just rhetoric). Maybe it's time to look around for different suppliers or perhaps even rationalize products that are too risky.

Are you an A,B,or C customer to your supplier? Figure out where you stand and see if there's anything you can do.

Collaborative, Planning, Forecasting, & Replenishment (CPFR) – Still not sharing your forecasts with suppliers? Getting quotes for everything? Time to enter modern times with the important suppliers.

Vendor Managed Inventory – Works with CPFR, same comments apply.
The Hardest Things
According to this 2021 study by Thomasnet, 83% of North American manufacturers are likely or extremely likely to reshore production. The hard list for this post includes the items below, will just leave it at that.
On-shoring – Maybe it's better in the long-run to have more stability and predictability

In-sourcing – Capex is likely, capability might be an issue too.

Vertical Integration – Maybe the time to make the acquisition you've been considering is now.
Hopefully there's something here that can help if you're in this situation. It seems many companies are establishing new baselines (worse) for performance relative to what was previously taken for granted. It is frustrating to see capability reduced. All any of us can do is accept it, take action, improve from here, and measure the impact. Then rinse and repeat.