IBP connects your strategic planning with your execution and improves cross-functional decision making.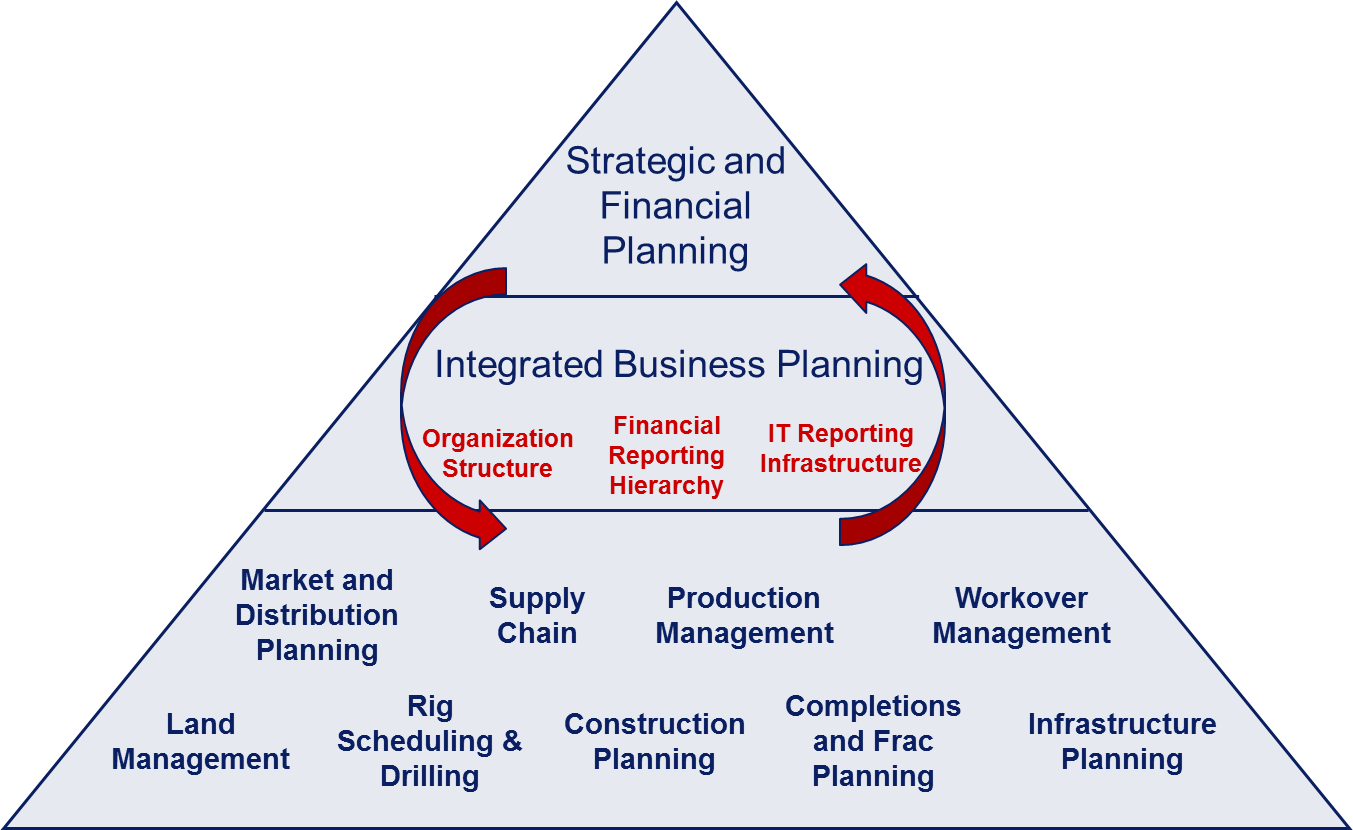 With lower oil prices here for the foreseeable future, management teams will continue to grapple with cost control and capital decisions. Many are dealing with acquisitions and/or divestitures too. Business plans will continue to evolve.  As management teams deal with these issues, it's important that decisions are made in a coordinated manner and collectively across functions with enough lead time for efficient change.  Operating, Marketing, Financial plans all need to be integrated.  Scenarios need to be modeled, agreed in the best interest of the whole, then managed through implementation.
Sure – all companies and management teams are doing these things, but…
•  Could the coordination be more structured and effective?
•  Are the decisions and cascading impacts being communicated effectively?
•  What level of visibility on the plans is there, does everyone have the same new plan?
•  Are decisions being made with enough lead time?
•  Is one part of the organization waiting on another?
•  Is the visibility of spend sufficient to make decisions and manage transitions?
•  What is the impact of changes on KPIs and the quarter/year-end? 
Challenging times look like they're here for a while, and cycle time under changing conditions will continue to drive success.  It's vital that teams be able to prioritize and synchronize:
•  Location selection, title, and permitting to produce an inventory of drill ready locations
•  Rig contracting, scheduling, drilling, and completions
•  Infrastructure planning & construction to move products in accordance with the production plan
•  Supplier integration to ensure secure supply of contracted services, equipment, and materials
Nexview Consulting is bringing the principles of Sales & Operations Planning developed over the last 30 years to upstream, where the needs for cross-functional planning and coordinated decision making are as great as ever.  While the principles of IBP are not rocket science, sophisticated companies struggle with these things, and we believe the work we are doing with E&P companies is cutting edge in the field of IBP.
Integrated Business Planning (IBP) is a structured process that connects your longer-term plan and budget with the executional processes mentioned above. IBP disaggregates the accountability of the business plan and is integrated with your organizational design/reporting structure, as well as the supporting information technology infrastructure to support layered reporting in the organization.
Whether your situation is managing the high risk and dollar decisions faced off-shore, or the volume of wells and moving parts faced on-shore, IBP can help your team. 
Nexview Consulting would be pleased to exchange ideas with you on how IBP can help you adjust to market conditions, compress your cycle times, and resulting cash to cash cycle.