Our course is based on our work with commercial and supply chain teams from global corporations over the past 20 years.
In today's environment, the companies who best understand market demand and respond to changing market conditions will come out on top.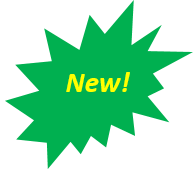 Significantly upgraded section on forecast modeling with exercise using Excel.
About the course
1-2 day courses are taught worldwide and formats are available for conferences as well as for individual companies. The course includes Nexview performance improving methodologies through a blend of:
Lecture

Exercises

Kaizen events

Case studies
Conference – Several Companies Present
Sessions are structured for participants to not only learn from us, but also from each other. We encourage sharing experiences in our discussions.
Single Company – Forecasting Team and Key Interfaces
We will work with you to tailor the workshop for the group in your company that will create the highest impact. We normally recommend a day on-site prior to the course to interview a few key members of your team. This allows us to learn the issues such that we can begin to address them in our training session.
For individual companies, pricing is not dependent on the number of participants. We want to assemble the group in your organization that can most benefit from this team event. In comparison to the conference version, more emphasis is placed on your specific situation and improving your specific situation.
Key elements of the seminar include:
Demand Planning's linkages to corporate strategy, supply chain, and overall planning efforts

The components of a world class Demand Planning process and how a consensus plan is reached

Quantitative methods and applications in Demand Planning

Measuring and improving forecast accuracy

Demand Planning differences across industries

Trading partner collaboration

Case studies

Tool use ranging from Excel to enterprise level applications to support the process

Key elements required to implement a world class process in your organization

Sharing experiences and learning from each other

Who Should Attend:
 Analysts, Managers, and Executives from functions such as:
Demand Planning

Sales & Operations Planning

Sales, Business Development, and Marketing

Product Management

Finance

Strategic Planning

Operations

Supply Chain

Inventory Management

Procurement

Entrepreneurs who want to apply best practices in their growing companies

Others interested in forecasting, business planning, and aligning operations with market demand

 

Industries:
Consumer Packaged Goods

Chemicals

Life Sciences

High Tech

Manufacturing

Energy
Download the Summary Flyer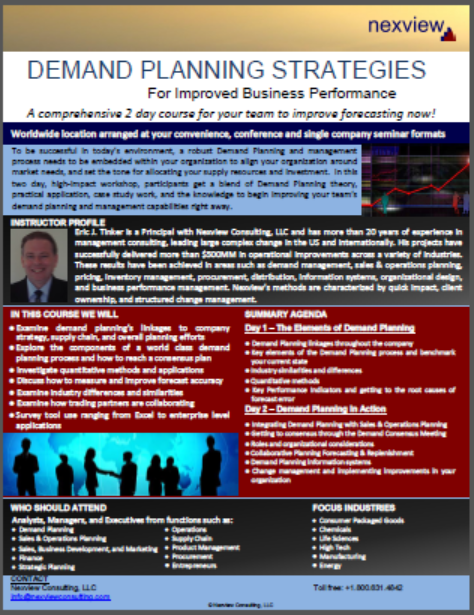 Please send me the full agenda (please request in the comment field)
You may also like