Nexview training seminars are based our our work across 5 continents with global corporations over the past 20+ years. We conduct single company on-site and public courses on a global basis.
Course overview videos
Please see individual details on our mature courses
About the courses
Courses are taught worldwide and formats are available for conferences as well as for individual companies with durations typically of 1-3 days depending upon need. All courses include Nexview performance improving methodologies through a blend of:
Lecture

Exercises

Kaizen events

Case studies
The conference format emphasizes knowledge sharing across participants, while the individual company format focuses more on improvements specific to the company's situation and improvement opportunities.
For Individual Company Sessions
We typically recommend a day of interviews prior to the course, such that we can address some of the issues in the course discussions. An aligning training course can be a great way to kick-off an improvement initiative with a low investment. Courses provide practical outputs that can be put in place quickly and include segments on change management, information technology, and performance improvement techniques that Nexview Consulting has been practicing with clients over several years. We'll work with you on a specific agenda.  
Please request more information and/or a detailed agenda (please request in the comment field)
What others have said
"I now know what steps to take."
"Excellent instructor, I wish to join him again in other workshops."
 "I liked the examples from each lesson."
"Knowledgeable instructor, very accommodating."
"Eric gave us a clear and concise presentation to fit our needs."
"Though the course is designed for manufacturing, it is highly usable for service industries as well."
"I liked that the concepts from the presentation were reinforced by the case study."
"I really like the templates shared during the course, they are very useful!"
"We are now pumped up and determined to design and deploy our own S&OP process!"
"Eric has real world experience and knowledge of best practices that can help all levels of the organization."
Participant Reviews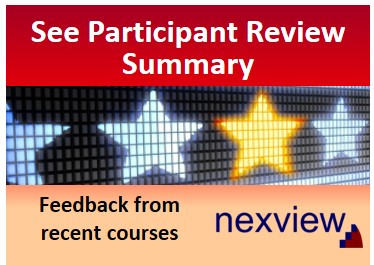 8 Levers for S&OP Performance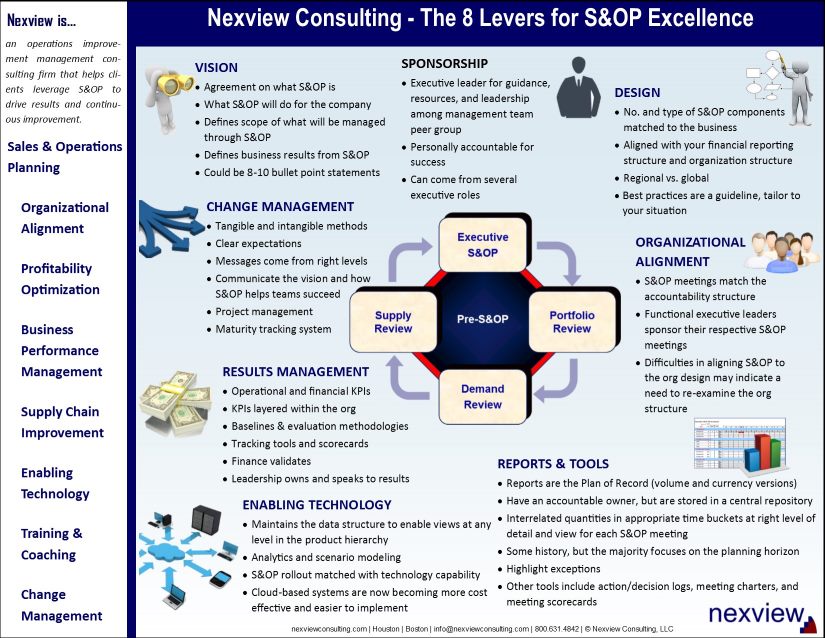 Book - S&OP Results Tips, Traps, & Tools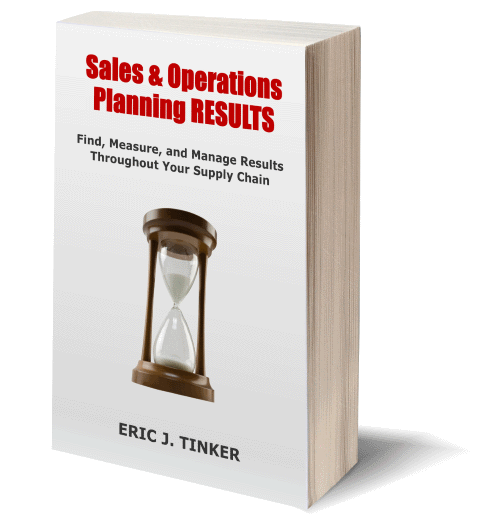 Free eBook - Our Implementation Methodolgy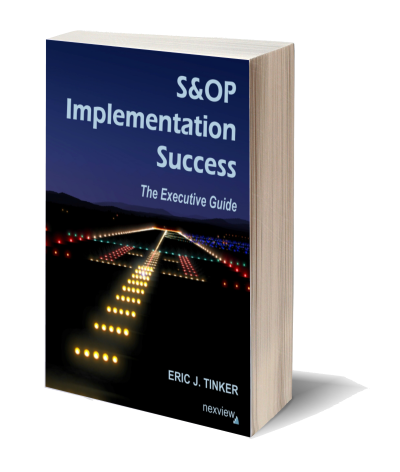 Download a training flyer
Included in our courses