We have deep experience in assessing organizations and operations to assess business strength, identify specific areas for improvement, and identify revenue growth and cost saving opportunities. These qualitative and quantitative assessments support due diligence efforts or form the basis for improvement programs. Outputs are a common understanding of the as-is, gap analysis, business case for improvement, implementation road map, and momentum for change. Sample studies and outputs are available as we discuss what makes sense for your situation.
Operations Assessment – Supply Chain and Interfacing Commercial Areas

Assessments are tailored to your individual needs, but often involve studies in the following areas:
Financial Trends

Supply Chain Strategy

Customer and Product Profitability

Pricing

Sales Force Effectiveness

Forecasting and Demand Management

Supply and Production Planning

Inventory Management

Procurement and Sourcing

Distribution and Logistics

Asset Use and Footprint

Information Technology

Sales & Operations Planning

Organization Structure and Effectiveness

KPI Effectiveness, Management Systems, and Behaviors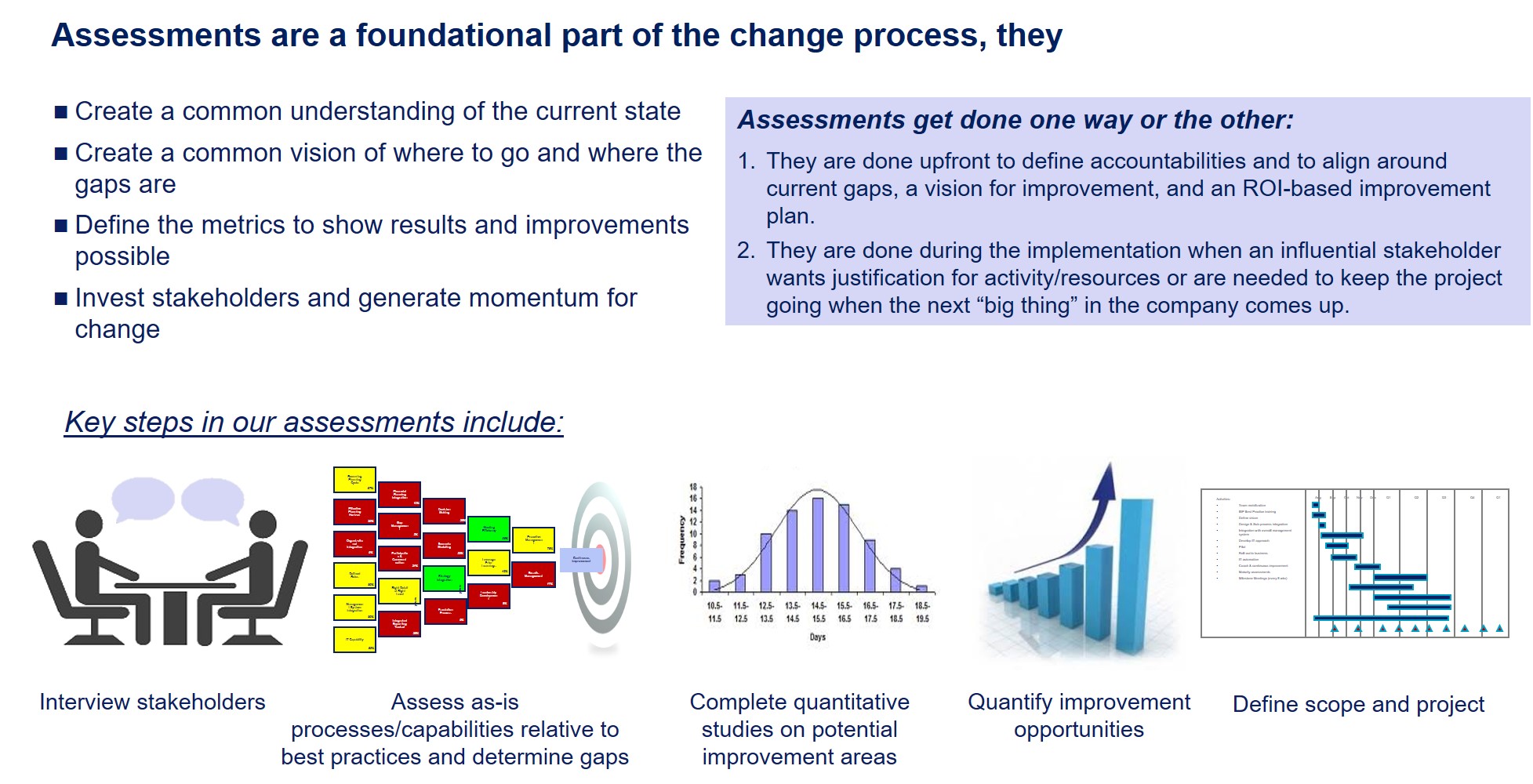 Our RapidEvalSM and S&OP Readiness Assessment will point you in the right direction. 
This is a quick assessment for those who don't want the full assessment described above, but who want a quick-hit evaluation and perhaps an aligning/training/kick-off workshop to jump start efforts and clarify a path forward.

We tailor specifics with clients to include items such as:
A best practice benchmarking evaluation of key supply chain processes and tools to measure future progress

High level process flow review and gap identification

High level organizational assessment

Change readiness assessment

IT capability assessment

Identification of potential benefit areas

Aligning/training workshop

Plan for next steps
This is an easy, economical way to start working together that produces tangible outputs!
You may also like