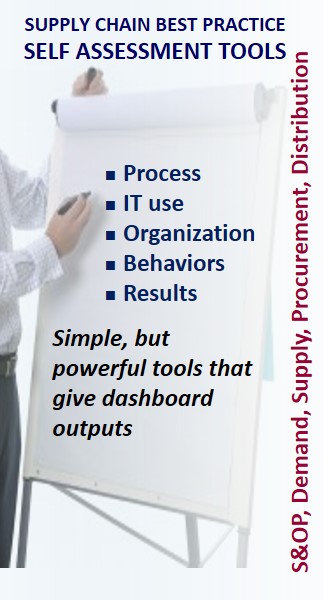 Supply Chain Self Assessment Toolkits
Assess your current state Supply Chain processes with these best practice comparison toolkits!
Using these simple and economical toolkits, change leaders can now leverage Nexview experience and methodologies that have been used to improve the supply chains of several global corporations.
Use these toolkits to:
* Launch your assessment
* Add credibility to your effort
* Measure future progress
* Do-it-yourself or with a little behind the scenes coaching from us, or more as desired

Sure – You can scour the web for disparate lists of free best practices and articles, but: 
* How will you combine the various partial lists?
* How will you gage how you should rate yourself?
* How will you get the inputs of others?
* How will you show the results?
* How will you summarize the overall results and align others around the conclusions?
* How will you prioritize what you should work on?
* How will you track your progress over time?
* How much time do you want to spend on this? 
If you'd like to avoid these "details" to get well thought-out tools for a modest cost please read on.
The Nexview Performance ArrowsSM are a set of best practice benchmarking tools we use at the beginning of assessments to get the perceptions of individuals and groups throughout the organization. For us, it gives directional indicators that set the stage for further study and quantitative analyses that lead to a benefits case and definition of an improvement program. We also follow up with the tools during an implementation project check on progress, as well as to define a maturity and continuous improvement path.
Participants in our training courses get the pertinent tools for their course as we use them as exercises for participants to benchmark their current state.
We have the following toolkits available through the website for a modest $49.95. Bronze members get all of them at a deeply discounted price.
All toolkits emphasize best practices for:
Process

IT enablement

Organization

Behaviors

Results
Each toolkit comes with:
The specific Performance ArrowSM tool

Instructions for using 

Suggestions for administering in your organization and modifying if you'd like

Access to us for any questions

Options for discounted pricing if you'd like our help with administering in your organization
We invite you to examine the specific toolkits in more detail or please just scroll down to see representative detail on the Demand Planning Performance ArrowSM.
Purchase or get more details on the individual toolkits
Individual toolkits sell for $49.95 USD each or become a Bronze member and get all of them at a large discount.
Example – Demand Planning
The Demand Planning Performance ArrowSM is a nifty Excel tool that covers 25 Demand Planning best practices across the dimensions of  Organization, Process, Technology, and Results.  Each best practice has a few questions that depending upon responses, calculates a "% Implemented" value which turns each best practice green, yellow, or red to produce a visual map of strengths and development areas.  The specific questions can also be changed to fit your particular situation if desired.  
Based on how the user responds to the survey in the tool, it outputs the graphical summaries as shown below. (Sample results shown).
Screenshot 1 – Input format (User responses indicated with an "x", questions for 1 and 2 of 25 best practice categories are shown)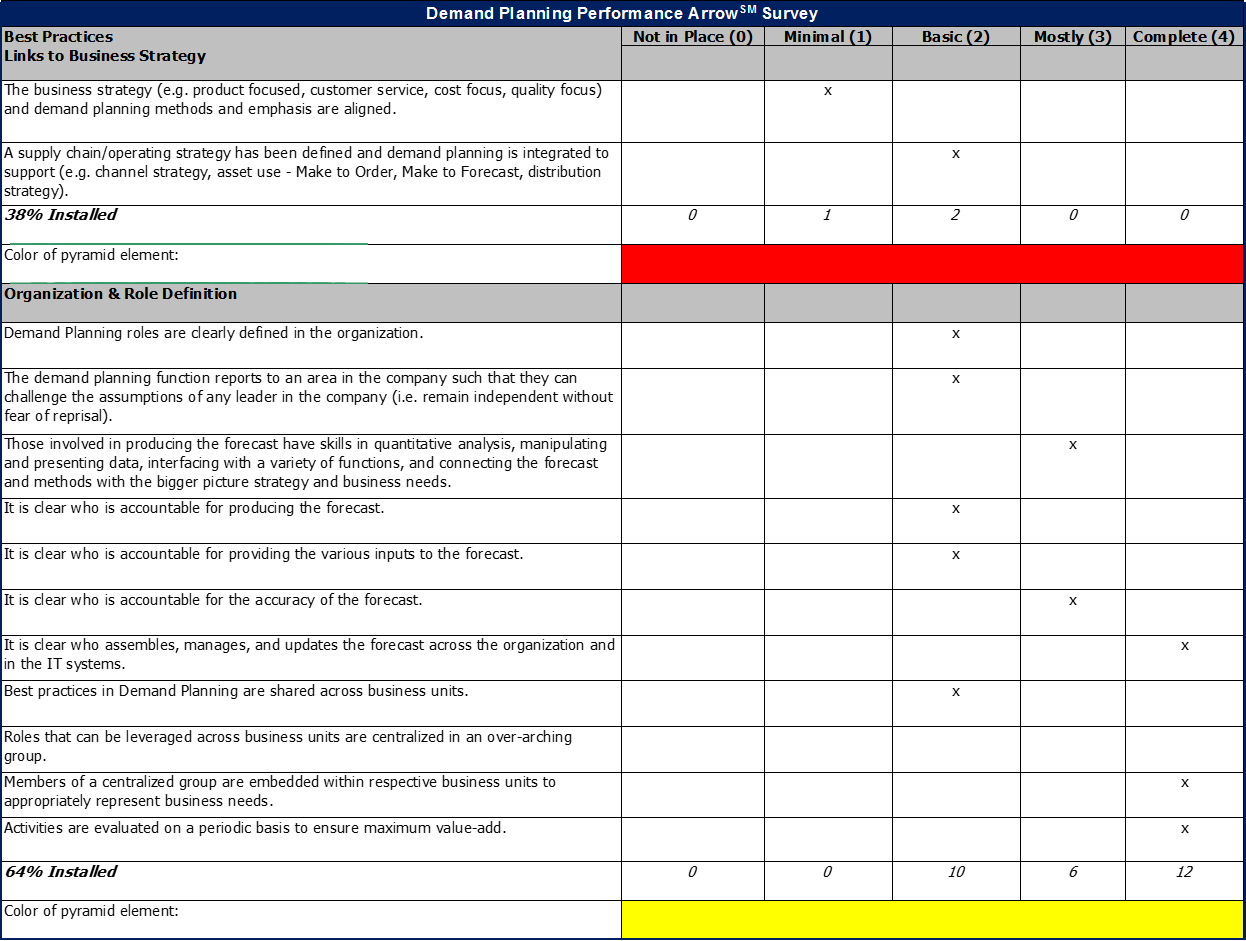 Screenshot 2 – Output (Results for sample input shown)
Demand Planning Performance ArrowSM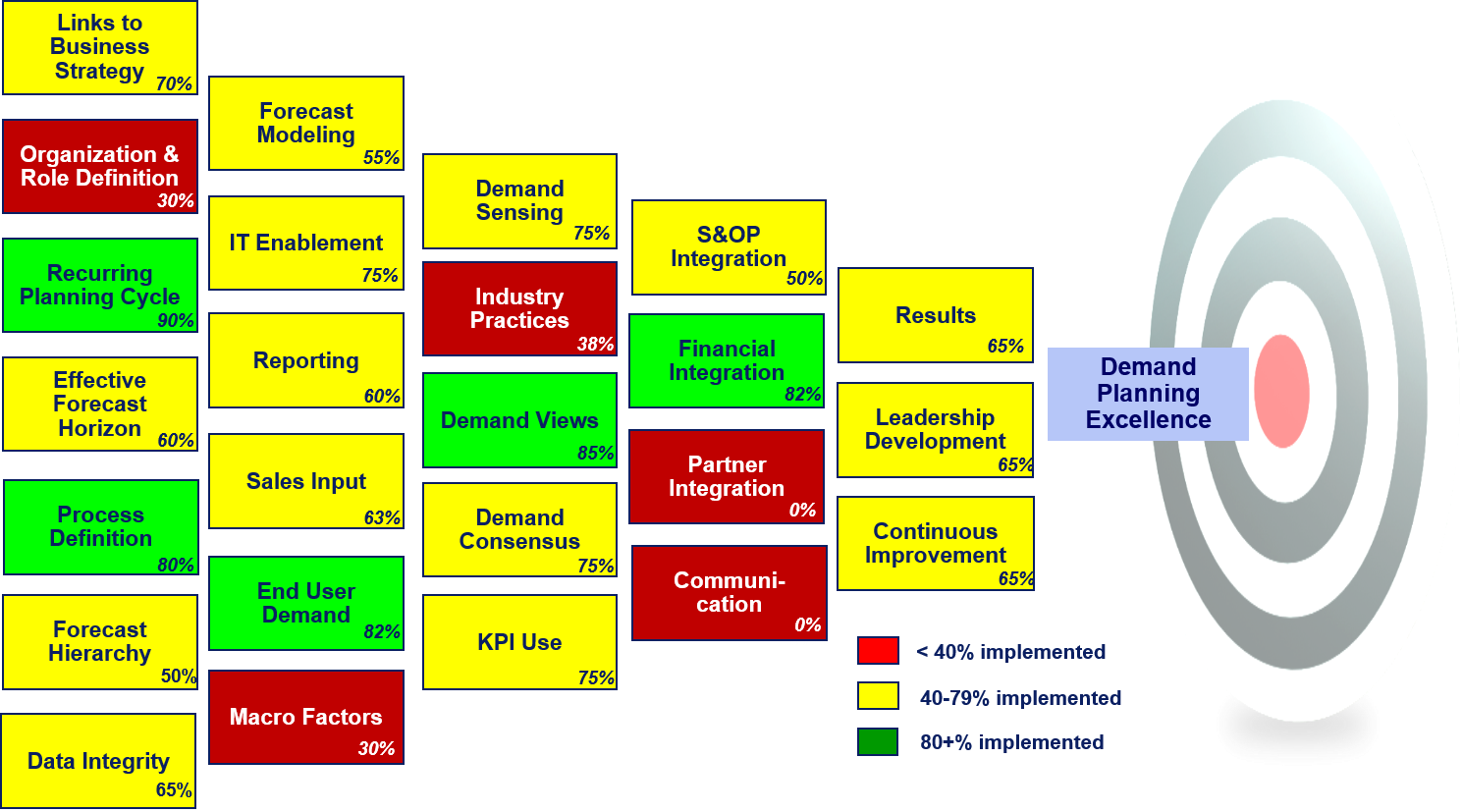 Screenshot 3 – Output (Results for sample input shown)
Best Practice Category Performance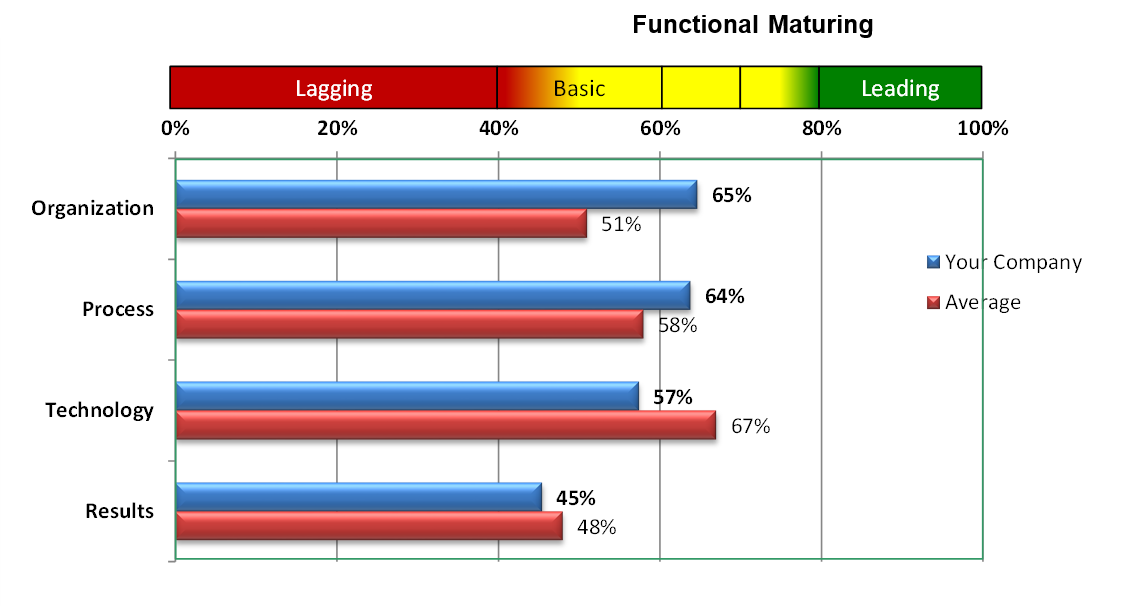 In addition to best practices specific to Demand Planning the Demand Planning Performance ArrowSM includes areas we emphasize with clients to include:
Organizational Alignment

Accountability

KPI and Results Management

Leadership Development

Purchase or get more details on the individual toolkits
Please read our Terms & Conditions before purchase.
Don't forget to sign-up for a free membership to gain unlimited access to our free content archive, or sign-up for a premium membership for savings on bundled products
This is minor, hassle-free purchase for your p-card, and can jumpstart your improvement effort right now!