Sales & Operations Planning RESULTS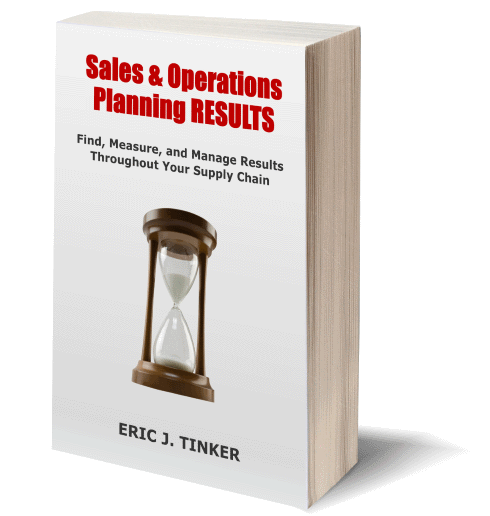 Find, Measure, and Manage Results Throughout Your Supply Chain
$7.99 USD (Kindle, EPUB, PDF formats available)
Paperback version also available on Amazon.
Eric Tinker has been delivering supply chain results for global corporations across the world for over 25 years with Nexview and larger, more well-known consulting firms. Learn his tips, tools, techniques, and traps from his experiences leading teams to generate in excess of $500MM in documented benefits.

Chapters:
One – S&OP Checkpoint
Two – Types of Results
Three – Identifying and Quantifying Your Results Case
Four – The Key Components of Results Tracking
Five – Your Results Tracking Toolkit
Six – Managing Your Results and Links to S&OP

Ideas for where improvement opportunities are in your supply chain, potential improvement magnitudes, operational levers for achieving, tips, and traps

Survey data that shows where others are getting results and how much

Why your S&OP process and/or supply chain initiative is at risk if you don't follow a results-driven approach

 

Terms and methodologies that the large consulting firms use with global clients

The importance of conducting an assessment, the major steps, and techniques for estimating the magnitude of potential benefits

Methods for calculating a project return, summarizing, and presenting benefit cases to executives

How potential changes in business conditions can affect your results after your project is underway

Tools to manage definition, accountability, and results tracking

Techniques for change management including roles & responsibility definition and frank discussion of potential political issues 

Case studies from the author's experience

 
All of this for joining our contact list where subscribers receive a handful of emails each year on new publications, S&OP/supply chain tips, and perhaps the occasional mention of a service. We respect your inbox and will never abuse it.
Your choice of formats for Kindle/Kindle App (MOBI), iPhone/iPad or other eReader apps (EPUB), or PDF. Directions to sync with your device provided.
Download the digital book, only $7.99 USD
Don't forget to sign-up for a free membership to gain unlimited access to all free items in our content archive, or sign-up for a premium membership on Nexview Online for savings on our growing offering of modestly-priced products (including this eBook) for improving performance. More to come in the future.