Media Kit
for Eric Tinker and the book Sales & Operations Planning RESULTS
Book Summary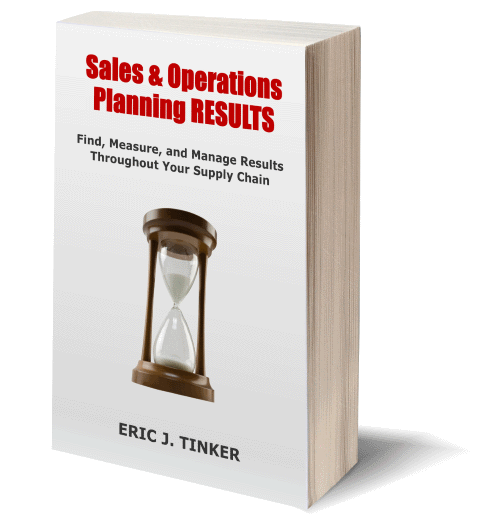 Sales & Operations Planning RESULTS is a concise summary written for those who want improved results from this cross-functional, planning and decision making leadership process. The author presents specific ideas for cost savings and financial benefits throughout the supply chain, as well as techniques for implementing a system to track and manage results at working through executive levels. The book describes how Sales & Operations Planning can be used as the platform for continuous improvement that aligns leaders to manage trade-offs and achieve quantifiable performance improvement associated with a focused improvement initiative, or on-going use of key performance indicators. The book is based on the author's experience over the last 20 years working as a management consultant on large, complex initiatives with global corporations and provides specific details for those that are hands-on, as well as the bigger picture items to consider for those in leadership roles. The book offers case examples, several tools and formats, as well as a download link to sample templates.
Bio
Hi Resolution Photo
Full CV with List of Events and Publications 
Contact Information
email: media at nexviewconsulting.com
Phone: 800.631.4842
Address:  2800 Post Oak Boulevard, Suite 4100, Houston, TX  77056
You can also use the form on the contact page
About Nexview Consulting
Nexview Consulting is a boutique management consulting firm that specializes in Sales & Operations Planning and leverages S&OP to be the platform for continuous improvement and profitability in client organizations. We also work with clients to improve the supply chain and planning processes, organizations, and technology that support S&OP. Consulting methods promote sustainability of performance improving behaviors, tangible results, and development of client team members. Nexview Principals and Associates are highly-experienced business and consulting leaders with track records of delivering results for clients across the world, typically with larger more well-known consulting firms. Our model enables us to meet the needs of mid-market clients or larger clients who may require multi-division/geography support.  Nexview Consulting is based in the Boston area and Houston, but we travel worldwide to conduct training seminars, speak at conferences, and work with clients on high-impact, performance improving initiatives.

Our Principals
Please click names for full bios
Content Archive
Please our Nexview Online repository for articles, conference presentations, videos, and other media, our just visit our blog for the latest posts.
You may also like: