Please download our latest S&OP maturity model. (1 page summary)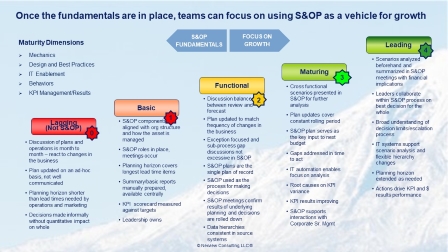 See where you line up and where some growth areas are along the dimensions of mechanics, design best practices, IT enablement, behaviors, and KPIs/results.
We respect your inbox. Subscribers receive a very occasional message offering real content, not just a bunch of marketing garbage.
We've been emphasizing using S&OP as a growth vehicle.
Please contact us if you're interested in getting your S&OP process on-track and/or just want to share some ideas informally.
We can also discuss some growth ideas from our talks in Jakarta and Boston.