Please download our article published in Supply Chain Quarterly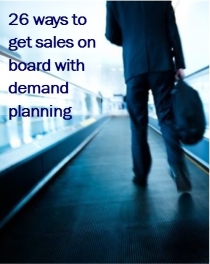 "26 Ways to Get Sales On Board with Demand Planning" – Supply Chain Quarterly
The article discusses 26 ideas organized around process, information systems, organizational design, and change management to get sales more engaged in demand planning.
See what our community said worked best for them.
Just add your response and the results of all our responses will come right up.
See our latest benchmarking report on Sales & Operations Planning 
Key S&OP topics:
> Where companies are experiencing challenges with implementation and/or improvement 
>  Sponsorship roles & levels
>  Results companies are getting and associated magnitudes
>  Integration of financial and product portfolio planning
>  Strategic topics discussed in the meetings
>  S&OP maturity
>  IT systems in use and their capabilities
18 pages of charts and our commentary. See where your process compares and share the report with your team.