Response has been very positive, we have room for 2 more companies only!
Thus far, we have participants from Singapore, Thailand, and Malaysia from global corporations representing:
High-tech

Consumer Products

Chemicals
We continue to respond to inquiries and expect the course will fill-up, please contact us soon if interested. We also have senior level individuals from the participating companies, it will be a very high-impact group and session!
Here's what we are thinking:
Assemble 4-6 companies, which is big enough to share several ideas, but small enough to ensure personal attention.

We'll have 2 days of best practice training followed by 1 day of info sharing and process improvement specific to each participant's situation. Pick your S&OP or Demand Forecasting process to focus on for your session. For those without much of a process yet, no worries, we'll get you going on the right foot!

Free follow-up access to the instructor
Wow! We'll get complete training AND and our instructor will lead us as a single consulting team to improve each other's processes!
Who else offers that?
For the 2 training days, we'll cover topics such as:
Deliverables from our courses are tangible and include items such as:
Slides

Tools & templates such as:

Demand Planning and S&OP best practice review tools

Sample report formats (KPI scorecard, S&OP reports)

S&OP meeting design documents

S&OP design checklist

S&OP meeting scorecard

Exercise outputs such as:

Summary of planning gaps

Demand Planning baseline best practice review

Root causes of forecast error in your organization

S&OP baseline best practice review

Summary of IT gaps

S&OP vision

Summary of barriers to change and mitigation strategies
We're looking for Directors/Managers/Individual Contributors who:
Want to learn/review best practices, but also want some new ideas and methods

Want to share their processes and learn about others

Want to improve effectiveness and business results

Want to be high-impact leaders in their organizations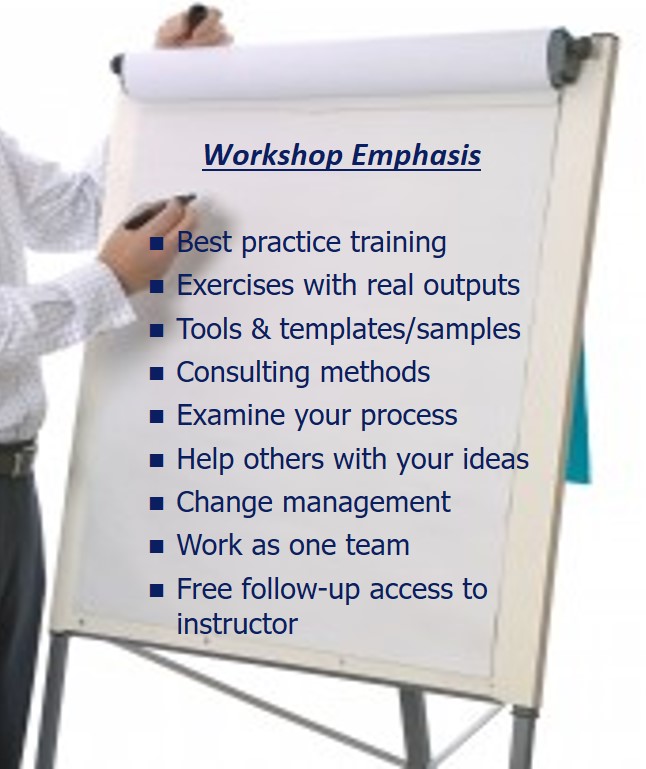 Why attend this workshop?
Other workshops present mostly their version of the generic subject matter material. While this is an important part, you'll need much more to jump-start change in your organization. Plus - we combine Demand Planning and S&OP!
Where else will you get training, tools/templates, and custom attention for your situation all in one place?
Yes - I'd like information on the reasonable pricing and a brochure with a detailed agenda on this unique 3-day event!

Your Discussion Leader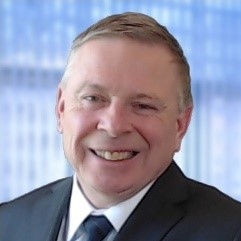 Eric Tinker has been delivering supply chain results for global corporations across the world for over 20 years with Nexview and larger, more well-known consulting firms. Eric's projects have delivered in excess of $500MM in documented benefits. Learn Nexview's methodology for S&OP implementation and performance improving techniques and get all the tools and templates we can give you. 
What others have said
"I now know what steps to take."
"Excellent instructor, I wish to join him again in other workshops."
 "I liked the examples from each lesson."
"Knowledgeable instructor, very accommodating."
"Eric gave us a clear and concise presentation to fit our needs."
"Though the course is designed for manufacturing, it is highly usable for service industries as well."
"I liked that the concepts from the presentation were reinforced by the case study."
"I really like the templates shared during the course, they are very useful!"
"We are now pumped up and determined to design and deploy our own S&OP process!"
"Eric has real world experience and knowledge of best practices that can help all levels of the organization."
Participant Reviews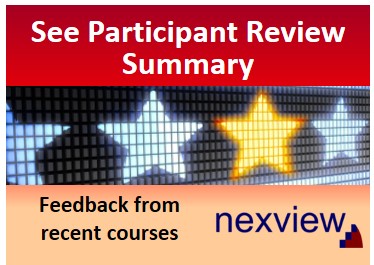 8 Levers for S&OP Performance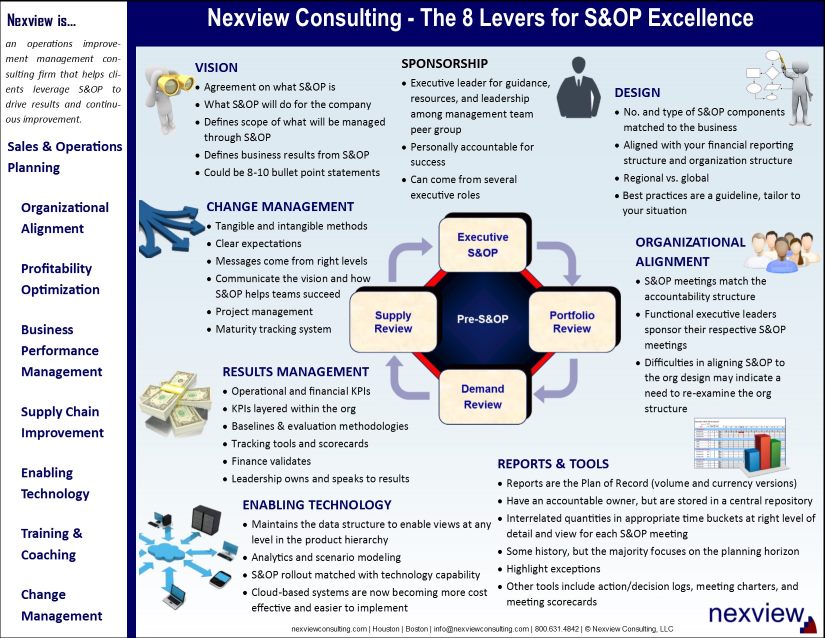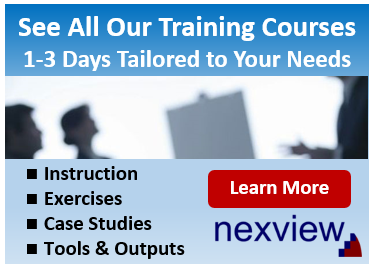 Download a training flyer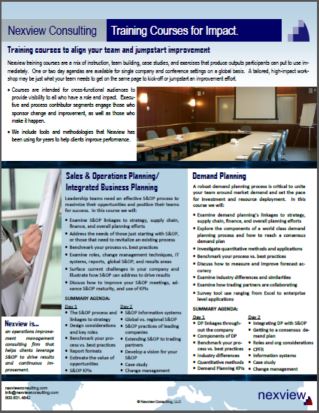 Included in our courses